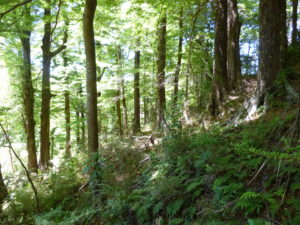 Hinewai is an ecological restoration project on Banks Peninsula, privately owned and managed by the Maurice White Native Forest Trust, but freely open the public on foot.
Hinewai Reserve occupies 1250 hectares in the south-eastern corner of Banks Peninsula on the South Island's east coast. The reserve lies east of the town of Akaroa.
Initially 109 hectares were purchased by the Maurice White Native Forest Trust in 1987. Since then the trust has greatly enlarged the reserve through the purchase of Ōtānerito Station in 1991 and through several subsequent additions. Since 2016 the trust has also looked after the adjacent 192 hectare Purple Peak Curry Reserve, after its purchase in that year by the New Zealand Native Forest Restoration Trust.
Goals
The primary aim is to foster the natural regeneration of native vegetation and wildlife. We operate under a management strategy of minimal interference — that is, we allow natural succession to run its course towards a vegetation cover (nearly all forest) similar to that prevailing before the forest clearance by human settlers, first partly by Polynesian settlers from about 700 years ago, second and nearly completely by European settlers from around 1850 onwards. We remove alien elements that seriously impede the re-establishment of native flora and fauna — that is a few highly invasive and competitive exotic trees and vines and a few seriously deleterious animals, provided that their removal is practical. Otherwise we leave things alone. For example, exotic gorse is a hated weed of pastoral farming but is tolerated on Hinewai because it serves as a highly effective temporary nurse canopy for native regeneration.
A secondary goal is to allow the visiting public to enjoy the reserve through the provision and maintenance of a walking track network.
Visiting Hinewai
Visitors are welcome on to this privately owned and managed reserve, provided they do not compromise our conservation goals.
Fire is a huge threat to the reserve and there is a total year-round fire ban, including smoking, cookers, and fires of any sort.
Dogs and other pets disturb wildlife and must not accompany you on the reserve. Also, pets could be endangered by traps and/or poison set out for pest animal control.
Do not cut or remove any plant life, even if you think something is a weed that needs eliminating or if you think you are helping with track maintenance.
Dropping tissues or any other rubbish is unacceptable.
Always use the toilets provided. There are toilets/loos at the Visitors Centre, at Ōtānerito, and at a few other locations along the tracks.
Camping is not allowed anywhere on the reserve.
Entry into the reserve needs no individual permission, and is free of charge. Donations are very helpful, and can be left in donation boxes at and near the Visitors Centre.
Maps are usually available in pamphlet boxes at entry points and at the Visitors Centre, which contains further information.
Travel is on foot only. No vehicles, including mountain bikes, are allowed beyond the roads and the carparks.
Clean drinking water is available at the Visitor Centre and from the flowing streams.
Weather conditions can change rapidly, especially on the exposed tops. Be sensible about adequate footwear and clothing.
The Track Network
Hinewai and the adjoining Purple Peak Curry Reserve have a publicly accessible network of walking tracks of about 20km, linked to Akaroa by Purple Peak track and Curry Track, and by Long Bay Road and Stony Bay Road. All tracks and junctions are clearly signposted. There is a lot of up and down involved in most routes. The longest of the circular routes requires several energetic hours. The tracks take in, for example, the "Big Circle", the summit of Taraterehu/Stony Bay Peak (806m) and Ōtānerito beach. Much can also be seen on shorter routes, ranging from 10 minutes (e.g. a short visit to the Visitor Centre or the fine viewpoint of Mikimiki Knob) to two hours (several possibilities).
Please keep to the tracks as strictly as possible to avoid trampling vegetation or getting lost. Take reasonable care. Some bits of track can be slippery after rain and some sections are steep. Click Here for map of Hinewai and the tracks.
Physical Setting
Hinewai and adjoining Purple Peak Curry Reserve occupy most of four catchments — Narbey Stream (Ōtānerito Valley), Sleepy Bay Stream, Stony Bay Stream, and Grehan Stream. The reserves straddle the eroded inner and outer flanks of the Akaroa Volcano which ceased erupting some eight million years ago. There are several prominent summits and high ridges, including nearly 4kms of the crater rim overlooking Akaroa. Permanent streams feature more than 50 waterfalls, some of which can be visited by walking track; the highest is the 30m Whakamate Falls in Murderers Gully; nearest to the Visitor Centre is the 5m Fuchsia Falls. As well as intimate forest interiors, there are expansive views out across the Pacific Ocean, Akaroa Harbour, the hills and bays of Banks Peninsula, and the distant Southern Alps.
Vegetation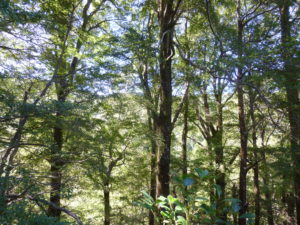 Most of the reserve is a mosaic of native forest in various stages of development. About 50 hectares are under old growth forest, mostly red beech. Ancient podocarp trees (tōtara, mataī and kahikatea) survive here and there. The biggest podocarp and beech trees are several centuries old. The tracks traverse tall forest, kānuka forest, mixed hardwood forest (fuchsia, māhoe, fivefinger, sevenfinger, broadleaf, kōwhai, kaikōmako, putaputāwētā, lacebark, ribbonwood, etc.), gorse, broom, grassy clearings, bracken, bluffs and tussockland. More than 60 species of fern, including six species of tree fern, grow here.
Extensive areas of gorse, broom, bracken and native shrubs serve as nurse canopies for regenerating native forest. Snow tussock occupies some higher open ground, and fringes upper road boundaries. Altogether 330 species of native vascular plants are known within the reserve, as well as many mosses, liverworts, fungi, algae, and lichens.
Wildlife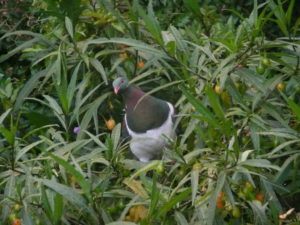 Many native birds can be heard and seen by observant visitors — bellbird, tūī, brown creeper, tomtit, rifleman, kererū, grey warbler, fantail (pied and black), silvereye, morepork, harrier, falcon, shining cuckoo (in season), kingfisher, blackbacked gull, little shag, black shag, paradise shelduck, grey duck, pūkeko, pipit, welcome swallow, and spur-winged plover. Introduced birds are also common, especially redpoll, goldfinch, chaffinch, yellowhammer, greenfinch, blackbird, song thrush, starling, California quail, rock pigeon, mallard, little owl, Australian magpie, dunnock and skylark.
Introduced mammals you might see are all undesirable aliens — hares, rabbits, brushtail possums, hedgehogs, rats, mice, ferrets, stoats, weasels and cats. A large population of feral goats were eliminated from the reserve by 1999. A recent threat is posed by straying red deer, escapees from nearby deer farms, easily capable of establishing wild populations to the detriment of native vegetation and wildlife.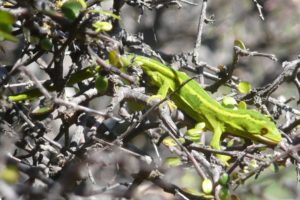 Gorgeously green geckos live in scrub and forest, brown geckos and skinks in the more open places.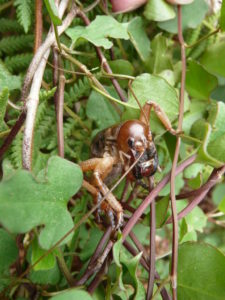 Streams and ponds are home to native eels, smaller native fish such as galaxiids, torrentfish, bullies and lampreys, introduced brown trout, Australian frogs, and native insect larvae. Insects and spiders are diverse and numerous. Butterflies are few in species but are individually numerous and colourful, especially red admirals, coppers and little blues. There is a particularly rich moth fauna. You may encounter giant native earthworms that can be up to 50cm long, and fierce looking (but harmless) wētā and stick insects.
Nearby coasts harbour a rich diversity of seabirds, marine mammals and fish.
Remember
This is private land to which the public are welcome by invitation, not as of right. Should there be a significant conflict between public visitation and conservation goals, the public could be excluded. Conservation is always the top priority here.

Everyone is welcome to walk our track network, at your own risk. Some hazards inevitably exist in such steep wild terrain. We put in a lot of effort to ensure that visitors' experiences are as safe as we can reasonably make them, but please take care. Parents should be aware that many of the tracks may be unsuitable for very small children. Young must be kept under close supervision and told not to touch any traps, etc.